Be sporty on Fehmarn
An extensive choice of sports
Guests can only blame themselves if they do not get active on Fehmarn.  Numerous bicycle lanes make the island a favourite for friends of cycling but there is also a lot to be discovered off these lanes.
Clearly, water is in the centre of your holidays on the Island of Fehmarn. The 78 kilometres long coast offers a huge variety of water sports especially for those who love to explore the sea on a board. Conditions for kitesurfing or windsurfing are ideal on Fehmarn. Holiday makers who prefer to discover what is going on below the water surface will find many opportunities for diving in angling.
Kitesurfing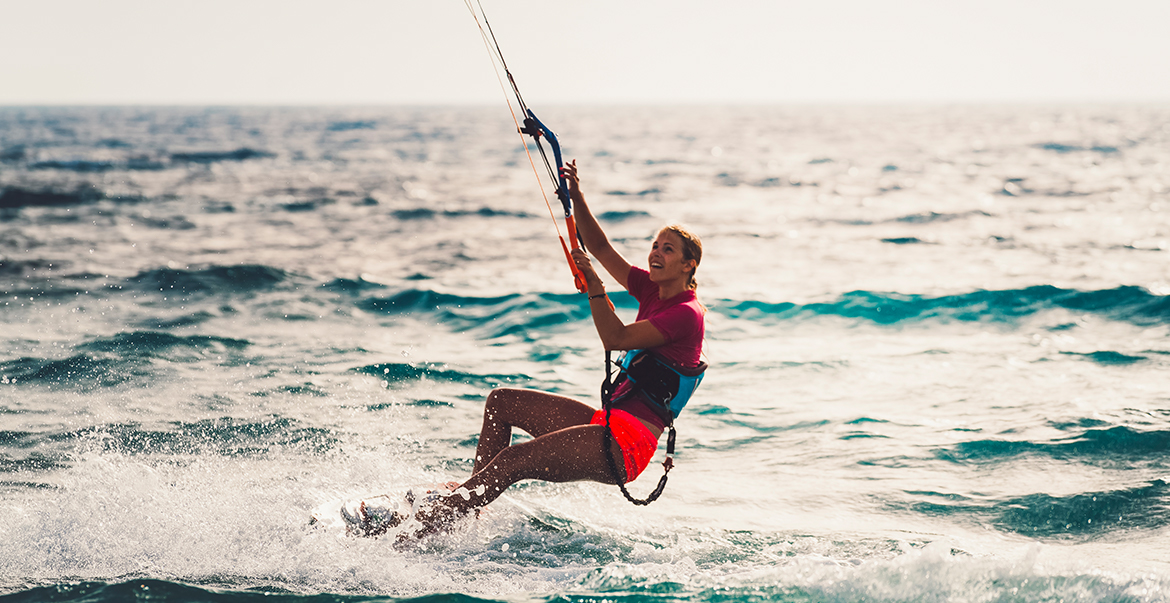 A kite will pull you across the water by wind power while you are standing on a board. Together with the wind you will be able to surf on smooth water as well as ride the high waves. The play between the kite and the wind makes a lot of different jumps and tricks possible. The highest recorded jump is at 27.5 m and was set on the Island of Fehmarn! Fehmarn offers ideal conditions for this kind of water sport. 2000 hours of sunshine and consistent wind make Fehmarn a paradise for kitesurfing not only in the summer. There are about 20 spots on Fehmarn where you can enjoy kitesurfing with wind coming from every direction and on every possible level of difficulty.
Kitesurfing schools
Many different kitesurfing schools on Fehmarn offer instruction and courses to learn kitesurfing even for the absolute beginner. Many beaches with flat-water spots make the Sun Island a perfect place for learning to kitesurf from scratch. The more advanced surfers will find spots where they can make the best use of the strong wind. Besides theory and practice, the beginner as well as the advanced kitesurfing addict will find suitable equipment in the shops of the kitesurfing schools.
#1 Windgeister
The team of the surfing school "Windgeister" in Orth offers all you need for kitesurfing, windsurfing and stand-up paddling (SUP). Here you also find the necessary equipment to buy new or used, or simply hire it for testing this kind of water sport. If something is not in store it can be ordered at Boardflash.
The kitesurfing school Boardflash in Lemkenhafen offers ideal conditions for learners with a large flat- water area and smooth water. You can book individual courses, classes or accompanied kitesurfing. The equipment is also available on hire.
Click here to get to their website.
#2 Kitesurf-Guide 
"Everybody can learn to kitesurf"  is the motto of the team of the kitesurfing school Kitesurf-Guide at Südstrand near Burg. This kitesurfing school especially values a family-like atmosphere and aims at teaching the fun of water sports on Fehmarn to the big or small, young or old water sports enthusiast.
Click here to get to their website.
Windsurfing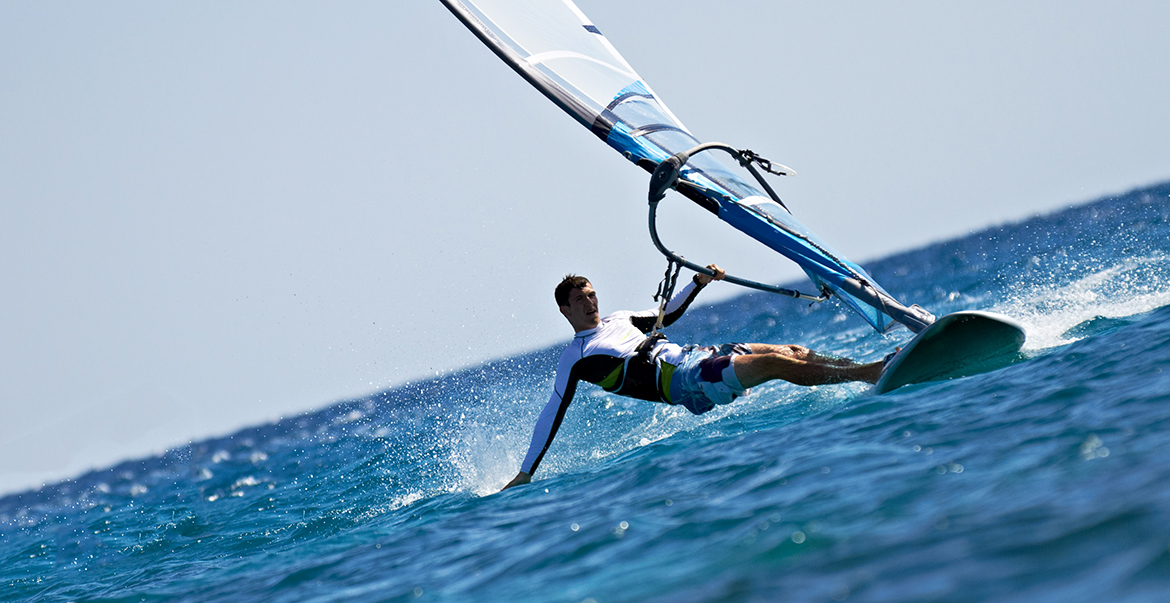 Different from kitesurfing you don't use a kite but a sail for windsurfing. This sail is connected to the board and can be twisted and tilted to make many manuouvres and tricks possible. Surfers reach a speed of 39 to 45 kilometres per hour; the record speed is set by more than 90 kilometres per hour. Particularly windsurfing is a favourite water sport on Fehmarn. For years the Island of Fehmarn in the Baltic Sea has been one of the favourite spots among the German surfers. All in all, there are 17 areas for windsurfing available. This is space enough for everybody, from the beginner to the professional enthusiast and each spot on the island is in easy reach by car.
Even organizers of windsurfing cups and festivals have discovered the Island of Fehmarn being an ideal area for this water sport. The biggest windsurfing outdoor fair in Europe takes place at the same time as the Surf Festival (https://www.surffestival.de/) on the Island of Fehmarn.
Windsurfing schools
The Island of Fehmarn is one of the most loved regions for water sports in Germany as you can see at the high number of surfing equipment shops on the island. The opportunities to buy material are huge and the number of windsurfing schools on the Island of Fehmarn is even bigger. Every surfer, whatever his experience and skill level is, will find something new, and even beginners and newcomers may turn into complete windsurfing addicts.
#1 Windsurfing Fehmarn
The team of enthusiastic windsurfers in Orth will help and give advice on all problems concerning this sport. Wind from almost all directions can be sailed and the flat-water area is huge. The big shop of the surfing school can provide you with everything a surfer's heart may wish for.  Click here to get to their website.
#2 Wassersportcenter Fehmarn
Wassersportcenter Fehmarn in Lemkenhafen offers a variety of courses and classes in windsurfing, kitesurfing and stand-up-paddling to learn from scratch, and to give you the chance of a good and safe start into all these water sports here on Fehmarn. You can also buy equipment new or used, and relax in the café on their premises.
Click here to get to their website.
#3 Windsurfing Wulfen
The windsurfing school in Wulfen offers courses of twelve lessons, for example on weekends, to learn surfing. The specialist in windsurfing, stand up paddling and kitesurfing also provides a big online shop. Click here to get to their website.
Stand Up Paddling
In the case of no wind – what rarely happens on Fehmarn – you can discover the sea by stand-up paddling. You will stand on a floating board and move forward with a long paddle. It is a combination of sport, complete body workout and teamwork. You have to learn keeping your balance, and soon you can manage to sail several kilometres on the water. Within the last years stand-up paddling has become more and more popular as a free time activity and it is getting more and more popular as a new water sport on Fehmarn. It is really not difficult to learn paddling and after a short introductory lesson you can start paddling.
Stand-up paddling schools
Meanwhile, many windsurfing schools offer courses for stand-up paddling. Trained water sport instructors teach you everything you need to know about the sea, local currents, tides, safe and rescue operations and much more.  You can book tours of 2 to 3 hours to get to know the idyllic and natural stand-up-paddling areas on Fehmarn (cliffs, beaches and more).
Diving
There is also a lot to do and to see below the water surface. You can dive to an old shipwreck to explore it; and you can just as well watch a wonderful flora and fauna thriving there due to the salty water coming from Scandinavia.
On the east and west coast of the island there are all together 10 dive sites; from Westermarkelsdorf in the north down to Staberdorf in the south.  Normally all these places are in easy reach by car, and as the Island of Fehmarn is only 17 kilometres wide you can easily change your destination for diving even on short notice if the wind changes direction. Generally, you can dive in the Baltic Sea throughout the year but the best time is from May to October because only at a temperature of more than 14 degrees flora and fauna will thrive. There is a lot to discover under water: fields of starfish, shells and seaweed inhabited by many different marine creatures. 10 shipwrecks around the Island of Fehmarn promise adventure for the diving enthusiast. Different water plants like sea anemone grow on these wrecks. With a bit of luck even eels or a school of cods can be seen there.
Diving schools
Several diving schools offer courses for the enthusiastic diver and for the beginner alike. In trial lessons you can learn how to manage the equipment above and below the water before you book a complete diving course for the beginner or a refresher course for the advanced diver. The basic course for the first diving certificate can be done within 4 days before you go on short discovery tours in a small group. The diving schools also offer several daily boat trips to the shipwrecks close to the shores of the island. Divers, who already have some diving experience, will also find the suitable equipment in the shops of the diving schools. There are several diving bases where you will be accompanied when diving, for example you will find a base on the campsite Südstrand in Meeschendorf and at Wulfener Hals.
Angling
You can do this water sport on Fehmarn throughout the whole year but the best time is from February to M ay and from September to December. As soon as you cross Fehmarnsund Bridge you can already see the first angler standing at the waterline . The 78 kilometres long coastline has a lot to offer, whether you want to fish in the surf, do spin or fly fishing or go out on boat – the choice is yours.
The enthusiastic angler will be able to catch a big variety of fish: flatfish and garfish are plenty; sea trout can be found all around the island, whereas cod can be caught from the fishing boat.
If you want to go fishing by boat you should already have some experience because the area around the island is quite windy. If you don't call a boat your own, you can hire one for, example at the marina in Burgtiefe. As an alternative you could take part in a fishing boat cruise offered by competent Captain Gunnar Gerth Hansen. Already early in the morning the fishing boats leave the harbour to reach the most popular fishing spots around the Island of Fehmarn soon. Such fishing tours are especially popular with beginners of angling and cost about 40€ per person. There are also guided tours where you are shown the best spots for angling before you start on your own.
Memorable Moments
Enjoy your break with your family in wonderful surroundings directly at the natural beach. All rooms, apartments and holiday houses of Hus Seeblick give you a lot of space and luxurious extras.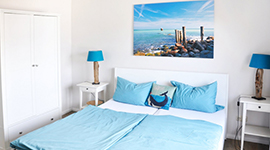 Hotel rooms & -apartments
Enjoy our maritime hotel rooms or –apartments for 1-4 persons.
BOOK ONLINE HERE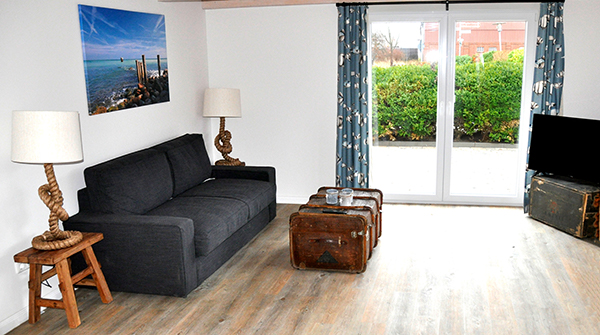 Holiday houses
Our charming holiday houses with luxurious features are designed for 2-4 guests.
BOOK ONLINE HERE